Ph.D. Candidate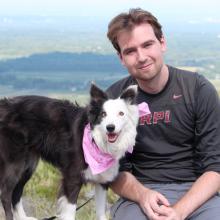 I am originally from New Jersey and came to RPI as an undergraduate in 2013 studying Chemical Engineering. After obtaining my B.S., I remained at RPI and joined the Dordick Lab to pursue a PhD.
Former Education
B.S. in Chemical Engineering - RPI (2017)
Research Interests
My research focuses on remote gene regulation using magnetic fields, known as magnetogenetics.  I will continue the work that has been done in collaboration with Dr. Jeffrey Friendman at The Rockefeller University and Dr. Sarah Stanley at the Icahn School of Medicine at Mount Sinai.  I will be studying possible applications for magnetogenetics in Alzhiemer's Disease research.
Awards and Honors
Rensselaer Medal
Tau Beta Pi Egnineering Honor Society inudctee
Omega Chi Epsilon Chemical Engineering Honor Society inductee
NIH Trainee in ADCTR
Personal Interests and Hobbies
I have been an avid baseball follower and player for my whole life, including playing in the Little League World Series when I was younger. I have been a Mets fan my whole life. I also play and follow golf. I loosely follow the other major sports as well.
I have two border collies that we perform dog sports with such as: frisbee/disc, agility, dock diving, flyball, freestyle, etc.
I also enjoy strategy board and video games.