Ph.D. Candidate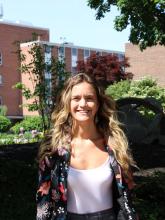 Background:
I came to RPI in 2019 and chose to be co-advised by Dr. Jonathan Dordick and Dr. Mariana Figueiro. Shortly after choosing my advisors, I was awarded the National Institute on Aging (NIA) training grant which allowed me to pursue my current research project: Optimizing Rhythmic Light (RL) Therapy to Induce Gamma and Circadian Entrainment in an Alzheimer's Disease (AD) Model. Although my research is a major passion of mine, I also love to hike, bike, run, rock climb, kayak, snowboard, and ice skate! When it is too cold out to do any outdoor activities, I stay inside to knit or press flowers! 
Education:
B.S. in Biology - Russell Sage college (2019)
Research Interests:
My research is focused on how light can be used to improve sleep and cognitive function via circadian and gamma entrainment. The applications for this research are mainly for people with Alzheimer's Disease and Related Dementias (ADRD), but may be applied to other diseases that involve disruptions of the circadian clock or neuroinflammation. I have worked with both mice and humans for this project, and I have had the pleasure of collaborating with the Icahn School of Medicine at Mount Sinai and Albany Medical College. 
Publications:
Figueiro, M. G., & Leggett, S. (2021). Intermittent light exposures in humans: a case for dual entrainment in the treatment of Alzheimer's disease. Frontiers in neurology, 12, 625698.
Leggett, S., Borrelli, J., Jones, D. K., & Relyea, R. (2021). The combined effects of road salt and biotic stressors on amphibian sex ratios. Environmental Toxicology and Chemistry, 40(1), 231-235.
Awards and Honors:
2020-2022 NIH-NIGMS T32 Fellowship Trainee