Graduate Student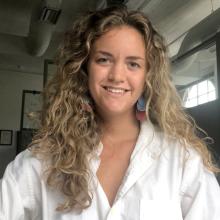 I joined the Dordick Research Group in 2020 before being awarded the NIA (National Institute on Aging) training grant. Dr. Dordick's group was very appealing to me as a Biology Ph.D. student because of the wide range of topics being studied by his amazing lab members. Having people with a variety of backgrounds is extremely important if you want to become a well rounded scientist and this research group definitely sets you up for that.
Former Education
 B.S. in Biology - Russell Sage college (2019)
Research Interests
My research is focused on how light can be used to improve sleep and cognitive function via circadian and gamma entrainment. The applications for this research are mainly for people with Alzheimer's disease and related dementias (ADRD), but may be applied to other diseases that involve disruptions of the circadian clock or neuroinflammation.