Visiting Scholar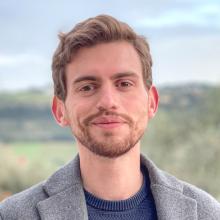 I joined the Dordick Group in Jan 2019 as graduate student from Instituto Superior Técnico. I am from Lisbon, Portugal, where I am pursuing a PhD degree in Bioengineering – Cell Therapies and Regenerative Medicine. In my free time, I like travelling, hiking and surfing. I have done 2 European Interrails and walked 795 km from St. Jean Pied-de-Port (France) to Santiago de Compostela (Spain) as part of the Camino Frances of Santiago.
Former Education
MSc in Biotechnology, Instituto Superior Técnico, University of Lisbon, Portugal, 2017
BSc in Cell and Molecular Biology, Faculty of Sciences and Technology, New University of Lisbon, Portugal, 2015
Research Interests
The major goal of my research project is to develop a microscale high-throughputculture system that mimics the 3D cellular microenvironment unveiling the interactions between cells and soluble/immobilized factors. This platform will be used to identify the sole and/or synergistic effects of soluble and immobilized molecules towards expansion and differentiation of hPSC. Additionally, it is intended to provide a platform to perform high-throughput studies on the toxicity of small molecules towards differentiated progeny and evaluate different cellular sensitivities to pharmaceutical compounds according to patient specificity.
Publications
Song, Y., He, P., Rodrigues, A. L., Datta, P., Tandon, R., Bates, J. T., ... & Linhardt, R. J. (2021). Anti-SARS-CoV-2 Activity of Rhamnan Sulfate from Monostroma nitidum.Marine Drugs,19(12), 685.
Rodrigues, A. L., Fernandes, T. G., Diogo, M. M., Cabral, J. M., & Dordick, J. S. (2020). Advanced microtechnologies for high-throughput screening. InEngineering Strategies for Regenerative Medicine(pp. 149-175). Academic Press.
Gopal, S., Rodrigues, A. L., & Dordick, J. S. (2020). Exploiting CRISPR Cas9 in three-dimensional stem cell cultures to model disease.Frontiers in Bioengineering and Biotechnology,8, 692.
Fernandes, C. S., Rodrigues, A. L., Alves, V. D., Fernandes, T. G., Pina, A. S., & Roque, A. C. A. (2020). Natural multimerization rules the performance of affinity-based physical hydrogels for stem cell encapsulation and differentiation.Biomacromolecules,21(8), 3081-3091.
Rodrigues, A. L., Rodrigues, C. A., Gomes, A. R., Vieira, S. F., Badenes, S. M., Diogo, M. M., & Cabral, J. M. (2019). Dissolvable microcarriers allow scalable expansion and harvesting of human induced pluripotent stem cells under xeno‐free conditions.Biotechnology journal,14(4), 1800461.
Rodrigues, A.L., Rodrigues, C.A.V., Gomes, A.R., Vieira, S.F., Badenes, S.M.,Diogo, M.M., Cabral, J.M.S. "Dissolvable Microcarriers Allow Scalable Expansion And Harvesting Of Human Induced Pluripotent Stem Cells Under Xeno-Free Conditions". Biotechnol J doi:10.1002/biot.201800461 [Epub ahead of print] (2018).