Postdoctoral Fellow & Visiting Scientist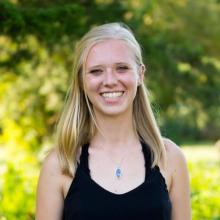 Background:
I am currently a postdoctoral fellow at Icahn School of Medicine at Mount Sinai and a visiting scientist in the Dordick lab. I earned my PhD in chemistry from Rensselaer in August 2023, where I was an NIH NIGMS T32 trainee co-advised by Dr. Richard Gross and Dr. Jonathan Dordick. My research interests include extracellular vesicles, drug delivery, liquid biopsy, and transcriptomics. In my free time I enjoy spending time outside and cooking. 
Education:
BA in Biochemistry at Wheaton College 
PhD Candidate in the department of Chemistry and Biological Chemistry
Research Interests:
 I am currently a visiting scientist with the Dordick lab. My main project currently takes place at the Icahn School of Medicine at Mount Sinai with Dr. Navneet Dogra in the department of pathology, molecular, and cell-based medicine. We are studying the emerging field of genomics, liquid biopsy, and gene delivery with a focus on extracellular vesicles. Prior to Mount Sinai, I researched the effects of molecularly engineered biosurfactants on breast cancer in the Gross lab at Rensselaer. 
Publications:
Wang, X.; Amason, A. C.; Miceli, R. T.; He, P.; Lei, Y.; Gabbard, R.; Wieland, J. A.; Linhardt, R. J.; Corr, D. T.; Gross, R. A. Biobased Diglycidyl Ether Diphenolates: Effect of the Ester Moiety on Fragrance Oil Microencapsulation by Interfacial Polymerization.Colloids Surfaces A Physicochem. Eng. Asp.2022, 648 (March), 129243. https://doi.org/10.1016/j.colsurfa.2022.129243.
Miceli, T. R.;Corr, T. D.; Barroso, M. M.; Dogra, N.; Gross, A. R. Sophorolipids : Anti-Cancer Activities and Mechanisms. Bioorg. Med. Chem. 2022, 65 (February).
Roberge, C. L.;Miceli, R. T.;Murphy, L. R.; Kingsley, D. M.; Gross, R. A.; Corr, D. T. Sophorolipid Candidates Demonstrate Cytotoxic Efficacy Against 2D And 3D Breast Cancer Models. bioRxiv Prepr. 2022. https://doi.org/10.1101/2022.09.01.506226. Accepted with revisions at ACS Journal of Natural Products
Miceli, Rebecca T.; Totsingan, Filbert; Naina, Tasnim; Islam, Samita; Dordick, Jonathan S.; Corr, David T.; Gross, Richard A.* Molecularly engineered surfactin analogues induce nonapoptotic-like cell death and increased selectivity in multiple breast cancer cell types. Accepted at ACS Omega 02/22/2023.
Awards and Honors:
Completed the NIH Responsible Conduct of Research course (Spring 2023)                                                                 
Regeneron Poster Expo: "Titer Developments for Anti-COVID mAbs" Best Technical Poster Award (August 2022)        
Rensselaer Graduate Symposium Poster, "Molecular engineering of surfactin analogues to treat breast cancer"  Runner-Up for Best Overall Poster (May 2022)                                                                                                              
Chemical  Biology and  Physiology  Conference  Poster:  "Molecular  engineering  of surfactin analogues to treat breast cancer" Best Virtual Poster Award (April 2022)                                                                                                     
American Chemical Society Poster: "Molecular engineering of surfactin analogues to treat breast cancer" (March 2022)                                                                                                                                                                                 
NIH Resilient Scientist (Spring 2021)                                                                                                                            
NIH NIGMS Training Fellowship T32, recipient (August 2020 – August 2022)       
NIGMS Fellowship Retreat Poster: "Molecular Engineering of Surfactin Analogues to TreatSARS-CoV-2 and Breast Cancers" (December 2020)   
Alpha Epsilon Delta Honors Society (2017-2019)