Graduate Student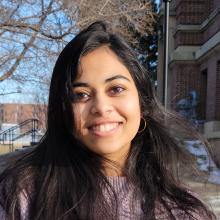 I am from Hyderabad, India. I obtained my bachelor's degree in Biotechnology in 2020 after which I worked as a downstream processing executive in Yapan Bio Pvt. Ltd., a biotech firm focused on process development and manufacturing of vaccines and biologics. Working for a year in the industry reassured me of my inclination towards research and I joined RPI in Fall 2021 to pursue my PhD in Chemical and Biological Engineering. I am co-advised by Dr. Dordick and Dr. Przybycien. In my free time, I like to paint, read novels, and play ukulele. 
Education: 
B.Tech (Biotechnology), Guru Gobind Singh Indraprastha University, New Delhi, India
Research Interests: 
My current research focuses on improving the stability of lipid nanoparticle (LNP) encapsulated mRNA vaccines. By systematic use of LNP-mRNA reference materials, excipients and lyophilization protocols along with detailed characterization of physicochemical (particle size, zeta potential, encapsulation efficiency) and functional (protein expression) properties of these nanoparticles, we want to establish dependencies of LNP-mRNA product stability on mRNA length, structure, LNP composition and lyophilized formulations.