Postdoctoral Fellow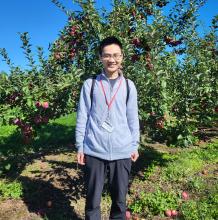 I joined the Dordick lab in September 2022 and Linhardt lab in October 2019 as a postdoctoral fellow. I obtained a PhD in organic chemistry at University of Chinese Academy of Sciences, where I worked on the synthesis and biological studies of novel glycolipids and nucleotides with  antitumor, immunostimulating and immunoregulatory properties. I like table tennis, hiking and travelling in my spare time.
Education
Oct. 2019- Current: Postdoctoral fellow in Linhardt lab and Dordick lab, Center for Biotechnology and Interdisciplinary Studies, Rensselaer Polytechnic Institute; 
Sep. 2014- July 2019: Ph.D., Research Center for Eco-Environmental Sciences, Chinese Academy of Sciences (advisor Prof. Yuguo Du);
Sep. 2011- July 2014: M.S., School of Pharmaceutical Sciences, Zhengzhou University (advisor Prof. Qiurong Zhang);
Sep. 2007- July 2011: B.S., College of Pharmacy, Qiqihar Medical University
Research Interests
i) Synthesis and structure analysis of polysaccharides and oligosaccharides; ii) Preparation of novel glycolipids with immunostimulating and immunoregulatory properties iii) Design, synthesis and biological study of nucleotide analogues.
Publications
1.         Peng He; Xing Zhang; Ke Xia; Dixy E. Green; Sultan Baytas; Yongmei Xu; Truong Pham; Jian Liu; Fuming Zhang; Andrew Almond; Robert J. Linhardt; Paul L. DeAngelis, Chemoenzymatic synthesis of sulfur-linked sugar polymers as heparanase inhibitors. Nature Communications 2022, 13 (1), 7438. 
2.         Juan Ma; Peng He, Chuanfang Zhao; Quanzhong Ren; Zheng Dong; Jiahuang Qiu; Yang Jing; Sijin Liu; Yuguo Du*, A Designed α-GalCer Analog Promotes Considerable Th1 Cytokine Response by Activating the CD1d-iNKT Axis and CD11b-Positive Monocytes/Macrophages. Advanced Science 2020, 7 (14), 2000609.
3.         Peng He; Shannon Faris; Reddy Sudheer Sagabala; Payel Datta; Zihan Xu; Brian Callahan; Chunyu Wang; Benoit Boivin; Fuming Zhang; Robert J. Linhardt, Cholesterol Chip for the Study of Cholesterol–Protein Interactions Using SPR. Biosensors 2022, 12 (10), 788. 
4.         Peng He; Chuanfang Zhao; Jiao Lu; Yang Zhang; Min Fang; Yuguo Du, Synthesis of 5-Thio-α-GalCer Analogues with Fluorinated Acyl Chain on Lipid Residue and Their Biological Evaluation. ACS Medicinal Chemistry Letters 2019, 10 (2), 221-225.
5.         Peng He; Chuanfang Zhao; Xue Sun; Yuguo Du*, Design, synthesis and evaluation of lactoside-derived galectin-3 inhibitors. Journal of Carbohydrate Chemistry 2019, 38 (3), 151-166
6.         Yi Liu; Peng He; Yang Zhang; Xiangyu Zhang; Jun Liu; Yuguo Du, One-Pot Enantiomeric Synthesis of Thiazole-Containing Amino Acids: Total Synthesis of Venturamides A and B. The Journal of Organic Chemistry 2018, 83 (7), 3897-3905.
7.         Yuefan Song; Peng He; Andre L. Rodrigues; Payel Datta; Ritesh Tandon; John T. Bates; Michael A. Bierdeman; Chen Chen; Jonathan Dordick; Fuming Zhang; Robert J. Linhardt. Anti-SARS-CoV-2 Activity of Rhamnan Sulfate from Monostroma nitidum Marine Drugs, 2021, 19(12), 685
8.         Fuming Zhang; Peng He; Andre L. Rodrigues; Walter Jeske; Ritesh Tandon; John T. Bates; Michael A. Bierdeman; Jawed Fareed; Jonathan Dordick; Robert J. Linhardt. Potential Anti-SARS-CoV-2 Activity of Pentosan Polysulfate and Mucopolysaccharide Polysulfate Pharmaceuticals, 2022, 15(2), 258