Graduate Student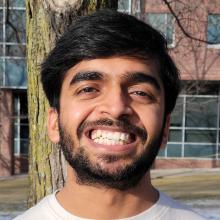 I hail from Delhi, India. I joined the PhD program in Chemical and Biological Engineering program at RPI in the Spring semester of 2021. I am being co-advised by Professors Koffas and Dordick. In the past, I have worked with RNA viral systems to shed light on their replication biology and also investigated methods for the preparation of diagnostic kits. Over time, I have developed a profound interest in researching more sustainable, scalable, and economic means to produce therapeutics which can, in conjunction with the rise of newly acquired knowledge of the biology of disease, revolutionize the health care system. Outside the lab, I can be seen baking, cooking, or trying out something new.
Education
B.Tech in Biotechnology, Guru Gobind Singh Indraprastha University, New Delhi, India – August 2019
Research Interests
I am primarily driven towards metabolic engineering and protein engineering approaches for translational research.  Currently, I am developing a bacterial strain, which channelizes most of its carbon flux through the Embden-Meyerhof-Parnas pathway, for the biosynthesis of succinate. Additionally, I am addressing the detoxification of aberrant, isomeric NADH cofactors using enzyme(s).
Awards and Honors
Shyama Prasad Mukherjee Fellowship (Life Sciences) – November 2019

Khorana Award for Scholars – February 2018
Publications
Hoda, F., Verma, R., Rastogi, S., Iqubal, A., Haque, S.E., Akhtar, M. and Najmi, A.K., 2021. Emergence of a New Zoonotic COVID-19 that Creates a Pandemic: Update on Current Pharmacotherapeutics and Future Prospective of Plasma Therapy. Coronaviruses, 2(4), pp.422-430.