Ph.D. Candidate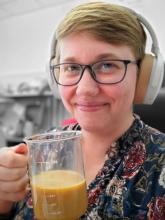 Background:
I am primarily advised by Dr. Jennifer Hurley, but am co-advised by Dr. Dordick under an NIH T32 Trainee Fellowship. My extensive experience as a laboratory technician in different fields of biology before attending graduate school uniquely prepared me to study circadian rhythms and their impact on the immune system. Outside of the lab, you can find me baking elaborate cakes, creating science-themed art, and attempting to contain the chaos of my two children.
Research Interests: 
My current research leverages multi-omics to study the impact the time of day has on macrophage response to foreign pathogens. As an extension of this, I am interested in how differences in sex (female vs. male) affect macrophage circadian activities. I also work closely with members of the Dordick lab who integrate circadian rhythms in their research.
Publications:
Muthukumarasamy I, Buel SM, Hurley JM, and Dordick JS (2023) NOX2 inhibition enables retention of the circadian clock in BV2 microglia and primary macrophages. Front. Immunol. 14:1106515. doi: 10.3389/fimmu.2023.1106515
Cervantes-Silva, M. P., Carroll, R. G., Wilk, M. M., Moreira, D., Payet, C. A., O'Siorain, J. R., Cox, S. L., Fagan, L. E., Klavina, P. A., He, Y., Drewinski, T., McGinley, A., Buel, S. M., Timmons, G. A., Early, J. O., Preston, R. J. S., Hurley, J. M., Finlay, D. K., Schoen, I., Javier Sánchez-García, F., … Curtis, A. M. (2022). The circadian clock influences T cell responses to vaccination by regulating dendritic cell antigen processing. Nature communications, 13(1), 7217.
† Buel, S. M.*, Debopadhaya, S.*, De Los Santos, H., Edwards, K. M., David, A. M., Dao, U. H., Bennett, K. P., & Hurley, J. M. (2022). The PAICE suite reveals circadian posttranscriptional timing of noncoding RNAs and spliceosome components in Mus musculus macrophages. G3 (Bethesda, Md.), 12(9), jkac176
McDonough-Goldstein, C. E., Whittington, E., McCullough, E. L., Buel, S. M., Erdman, S., Pitnick, S., & Dorus, S. (2021). Pronounced postmating response in the Drosophila female reproductive tract fluid proteome. Molecular & cellular proteomics : MCP, 100156.
Ji, Y., Buel, S. M., & Amack, J. D. (2016). Mutations in zebrafish pitx2 model congenital malformations in Axenfeld-Rieger syndrome but do not disrupt left-right placement of visceral organs. Developmental biology, 416(1), 69–81.
*Equal contributors
† Selected for Feature Article and Cover Art in Volume 12, Issue 9, September 2022 issue of Genes|Genomes|Genetics
Presentations:
Dec 2022 The PAICE Suite Reveals Circadian Post-Transcriptional Timing of Non-Coding RNAs and Spliceosome Components in Mus musculus Macrophages. American Society for Cell Biology (poster)
May 2022 The PAICE Suite Reveals Circadian Post-Transcriptional Timing of Non-Coding RNAs and Spliceosome Components in Mus musculus Macrophages. Society for Research on Biological Rhythms Conference (poster)
May 2012 Upregulation of hypoxia-inducible factor 1α in a stable transgenic squamous cell carcinoma line. Undergraduate Research Symposium, Roberts Wesleyan College (poster)
Awards and Honors:
 2021-2023 NIH-NIGMS T32 Fellowship Trainee