Ph.D. Candidate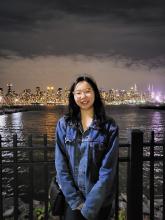 Background:
I was born and raised in Seattle, WA.  I obtained a BS in Chemical Engineering at Columbia University, where I focused on using Acidithiobacillus ferrooxidans to enhance the corrosion of metals. I joined the Dordick Lab in Fall 2019 to pursue my PhD in Chemical Engineering. In my free time I like to bake and cook.
Education:
 B.S. in Chemical Engineering from Columbia University (2019)
Research Interests:
 My research focuses on utilizing enzymes for bacterial surface detection and decontamination. In the first part of my research, I used immobilized enzymes to create a coating that could be applied to surface decontamination for both bacteria and viruses. The remainder of my research focuses on utilizing the binding domain of lytic enzymes to develop a targeted detection system on surfaces.  
Publications:
Wang, L. S., Xu, S., Gopal, S., Kim, E., Kim, D., Brier, M., Solaki, S., and Dordick, J. S. (2021). Facile fabrication of antibacterial and antiviral perhydrolase-polydopamine composite coatings. Scientific Reports, 11(1), 1-11.
Conference Presentations:
Xu, S., Wang, L. S., Gopal, S., Brier, M., and Dordick, J. S. "Facile Fabrication of Antibacterial and Antiviral Perhydrolase-Containing Polymeric Coatings", Poster Presentations, ACS Meeting, August 23 & 25, 2021
Xu, S., Wang, L. S., Gopal, S., Brier, M., and Dordick, J. S. "Facile Fabrication of Antibacterial and Antiviral Perhydrolase-Containing Polymeric Coatings", Oral Presentation, AIChE Meeting, November 7, 2021
Xu, S., Wang, L. S., Gopal, S., Brier, M., and Dordick, J. S. "Facile Fabrication of Antibacterial and Antiviral Perhydrolase-Containing Polymeric Coatings", AIChE PACE Workshop 2: COVID Tracking, Transmission, Detection and Modeling, November 18, 2021