Graduate Student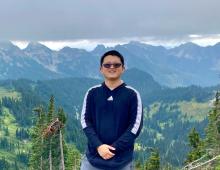 I joined the Dordick group in the spring of 2021 to pursue a PhD in Chemical and Biological Engineering. During my undergraduate years, my research focus was on graphene and optoelectronics. I made a switch to the field of bioengineering during my first year as a PhD student when I was presented with an amazing opportunity to join the Dordick Group and work on mRNA related topics. In my free time, I love cooking, practicing Brazilian Jiu Jitsu, and playing the guitar.
Education
B.S in Chemical Engineering, Rensselaer Polytechnic Institute, May 2020
Research Interests
I'm currently studying the fundamental properties that contribute to mRNA stability and working on developing a room-temperature stable, lipid-nanoparticle-encapsulated mRNA vaccine lyophilized formulation. My research includes designing mRNA construct, studying mRNA secondary structures, verifying mRNA and lipid nanoparticle integrity via physiochemical and cell-function based assays, developing LNP-mRNA formulation and fine-tuning lyophilization techniques.